Leading from a Place of Truth (Self-Study)
There seems to be something magical in all of us that inspires us to lead our life in our unique way and informs our choices. This special purpose and path that only we have, can become nectar to our soul and our communities  – when we acknowledge, live and gift it wholeheartedly.
I unfortunately sometimes get overloaded with tasks, and as a result disconnect from my inner spark and while I might accomplish my to-dos I feel doubtful and exhausted.
Remembering one's own leadership and purpose is heart and mind opening. Acknowledging our strength and talents and the contributions we are making heals our wounds and rejuvenates us. During the workshop, you will diagnose your personal leadership situation. You'll (re-)connect to what is true for you – so you'll lead even more from a place of truth – inspired and vitalized by your own leadership development.
You'll be introduced to the Four Fold Way by Dr. Angeles Arrien – a holistic perspective on leadership, along with other tools from the Genuine Contact program.
You'll leave this workshop with:
a refreshed sense of purpose
a clear vision of what supports you in your own leadership development
ideas how to nurture yourself so you can be of service to others
fresh thoughts to ponder about that spark your curiosity and excitement
revitalized sense of leadership
The Four Fold Way
Combining four archetypes with principles:
Show up, or choose to be present. Being present allows us to access the human resources of power, presence, and communication. This is the way of the Warrior.
Pay attention to what has heart and meaning. Paying attention opens us to the human resources of love, gratitude, acknowledgment, and validation. This is the way of the Healer.
Tell the truth without blame or judgment. Nonjudgmental truthfulness remains our authenticity and develops our inner vision and intuition. This is the way of the Visionary.
Be open to outcome, not attached to outcome. Openness and non-attachment helps us to recover the human resources of wisdom and objectivity. This is the way of the Teacher.
~ Dr. Angeles Arrien, The Four Fold Way: Walking the Paths of the Warrior, Teacher, Healer, and Visionary
$

97.00
Add to cart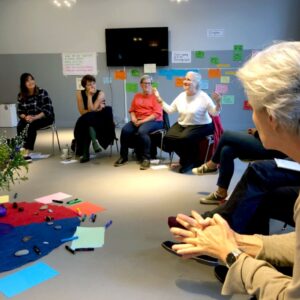 Leading so People will Lead (Self-Study Program)
Supporting you in developing your leadership for leading so people will lead
Gone are the days when leading so people will follow is sufficient. As organizations need to become more agile, innovative, collaborative, and perform well within the background of constant change, leaders are learning how to lead in the new leadership paradigm "Lead so People will Lead".
This may make logical sense to you. A question lingers that this specialty workshop is designed to help you answer. The question that lingers is "am I ready to lead so people will lead?" This question is directly linked to "am I ready to let go of the control I have when I lead for people to follow?"
By participating in Leading so People will Lead, you will increase your capacity to meet the expanded leadership accountability needed in today's performance environment of constant change. This workshop offers an important step forward in supporting leaders and their organizations to develop in a way to:
maintain a constant state of adaptability and flexibility
ensure gender equality
maintain organization-wide impeccable ethics
pay attention to economic, social and environmental good while thriving financially
During this workshop, you will be guided to:
discern the difference between leading so people will follow and leading so people will lead
develop clarity about your readiness to lead so people will lead and to coach/mentor others in being able to do so
determine your engagement with pioneering in the new leadership paradigm and what this means to your life and your business
construct a plan for yourself to assist you in your personal and business transformation
identify your next best step to guide you in implementation
create a mechanism for monitoring and adjusting your progress
Join us!
$

97.00
Add to cart
Unearthing your Conduct as a Leader (Self-Study Program)
This workshop will provide you with insight into your "conduct" for leading yourself successfully to accomplish your vision. Whether you work within an organization or are the leader of your own business, it is important that the way you act is aligned with your deeper values, purpose, and spirit of intent.  When your conduct is consistent each action helps you create what you would like to see in your life and world.  When you have developed a conscious awareness of this alignment it will help you in each decision you make as you move as a leader on your path.
During this workshop, originally recorded in November 2019, we will use the Deep Essence Tool from the Genuine Contact program to:
guide you into clarity about your own conduct to help you see where you are in balance and where you are not.
draw to your consciousness how to align your conduct to that which you want to bring into the world.
Deepen your understanding of how your unique conduct is linked to your experience, and become clear on where you may want to make adjustments to help you become more consistent
This will help you to DO Leadership – to develop a consequent set of actions that are consistent with your deeper purpose and vision.  It means developing a way to conduct yourself, a way to be that feels in harmony with what you are creating.
The English word Conduct elegantly describes this combination of action harmonized with your deeper values and purpose in the world.  Conduct is what helps you to move in new directions when you don't know what to do.  It is what guides you in your difficult decisions when it is unclear which path to choose, it is the set of behaviors, structures, assumptions and values that guide you in daily life. It is something you DO internally and something that is experienced by others who interact with you.  When your conduct is consistent with this purpose and vision it acts as a guide you can trust to lead you to the right action.  When it is inconsistent you can enter into confusion, this will be experienced by you and those around you.
$

97.00
Add to cart