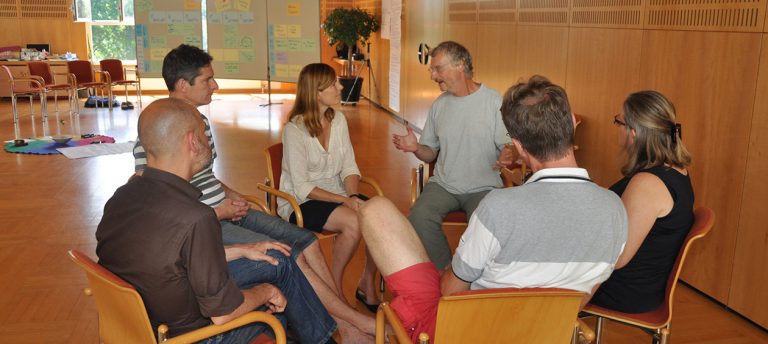 The Genuine Contact Organization is a living breathing example of how organizational development can happen according to the beliefs, values, structures and spirit of Genuine Contact. Our organization is made up of members living on every continent and in dozens of countries. Each person is an independent professional, working as consultants, coaches, facilitators, and trainers, or inside of organizations as leaders, executives, and managers. We share a commitment to the Genuine Contact way of working.
We believe in extraordinary leadership, life nourishing organizations and sustainable growth for individuals and organizations.
We believe in keeping it simple, so we use the Genuine Contact Way of working as an approach to developing and continually regenerating a healthy and balanced climate in organizations. This allows for both individual and organizational sustainability.
People access and work with their potential to achieve the purpose of the organization.
The extraordinary leadership is among everyone.
The vision shows an attracting future.
The community is a beautiful web of relationships.
Management is cleansing, nourishing and balancing the environment so the work can be done in the best possible way.
Does this sound interesting to you?
Do you want to know more to see if this is something for you?
Our Mission
Our mission is to support leaders, coaches and consultants who are working with organizations that want to be highly successful by nourishing a culture of leadership and at the same time sustain their health and balance.
These organizations are:
Alive and aware and working from their strengths.
Strengthening their life force for optimal performance by attending to a life nourishing climate.
Allowing the space for co-creation to achieve maximum benefits of the intellectual and intuitive knowledge of the individuals and the collective.
Creating necessary conditions for creativity, innovations, commitment and focused action.
Identifying and removing barriers and clarifying givens to create an optimal environment for people to work in.
The Genuine Contact way of working
The Genuine Contact way of working is tailored for people who want to create something new. It can be applied both to individuals and organizations, communities, teams, and any group of people coming together to work towards a common purpose. Our approach is designed to allow people to discover the possibilities and unseen potentials that are under the surface and are felt by the people who are in the process and committed to finding solutions for the coming centuries.
Why Genuine Contact?
Many organizations are using their full potential in a way that is creating their success. They have learned to work with constant change - using the wisdom in the organization to take advantage of new opportunities. These organizations nourish a culture of leadership that is inspiring and energizing.
Other organizations are struggling to find their key to success. They put large amounts effort into controlling finances, managing their people and handling the consequences of change. This is often experienced as energy draining. Their people feel restricted and the wisdom is not used to work with new opportunities.
You and your organization might be facing some of the following:
Restructuring for growth or downsizing or some other challenge
A need for new energy, renewed focus, and engagement
Too many processes which are impeding the productivity or not enough structures in place to get the work done
A wish to work more with the organizational culture while still focusing on vision and goals
Regardless of which opportunity or challenge you are facing, we know that your journey can be easier and more fulfilling with the right tools and methods, that are adaptable to your unique situation and compatible with the culture of leadership you want to create. We have chosen to work with the tools and methods in the Genuine Contact program and we are happy to share the benefits with you.
What's Next?
Become a White Level Member (free membership) to join the Ongoing International Mentoring Circle for people interested in Genuine Contact and connect to people around the world, who are working with the Genuine Contact™ program every day. Please contact our Director with any other questions.
The Genuine Contact Organization is a membership organization, with members self-selecting their level of contribution and engagement with the organization.  You can meet them and learn more about them here:
Members are people who have interest in Genuine Contact. Membership is open to anyone, however most members have participated in at least one workshop, mentoring circle, or have experienced working with Genuine Contact in their organization. They have joined as members to experience the benefits of membership and to support the organization in its work.
Genuine Contact Trainers have completed all 9 modules of the Genuine Contact Program.  They are the only Genuine Contact Professionals authorized to teach the GC workshop modules.
Genuine Contact Co-Owners are GC Trainers who have chosen to become Co-Owners.  They work together with other levels of the organization to steward the development of Genuine Contact in the world.
Co-Creators - Birgitt Williams and Ward Williams co-created the Genuine Contact program. They opened up its ongoing development to a team of Co-Owners in 2006.
Our Leadership - the Genuine Contact Organization, with all its levels of engagement, includes a dedicated leadership team working together to support our community's engagement in working with Genuine Contact worldwide.