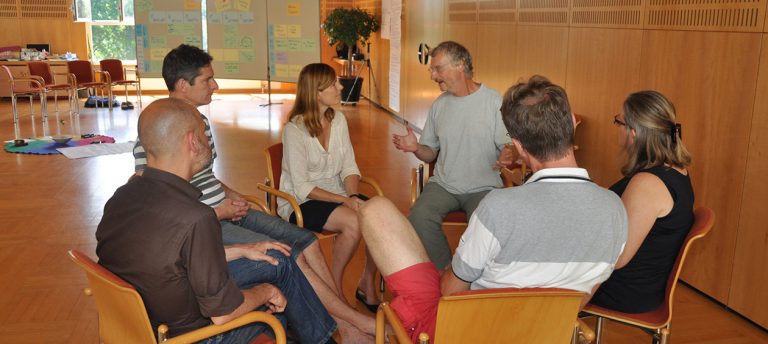 Genuine Contact provides a blended, synergistic, holistic approach to change and to leadership. It is not about a big quick splash, but rather about developing the skills, knowledge, and capacity to sustain the ongoing organizational change necessary to thrive in today's constantly changing, complex times. The program includes 9 modules including 4 Foundational Workshops, 4 Advanced Skill Building Workshops and the Train the Trainer of the Genuine Contact Program. Each workshop is designed as a stand-alone module providing specific skills, tools, and capacity building.  Modules can also be combined to achieve specific learning goals, and as a complete program, these workshops offer you a comprehensive approach to holistic organizational development. To learn about Genuine Contact there are many different paths to choose from:
You can take modules of Genuine Contact program in many different locations around the world
You can take many modules of the Genuine Contact program online
You can join Genuine Contact Mentoring Circles online and in person
You can bring a Genuine Contact trainer into your organization for in-house training
You can participate in different public events
You can  meet the Genuine Contact community on social media
Upcoming Genuine Contact Modules are listed on our Event Calendar. Genuine Contact trainers are authorized to train the original modules of the Genuine Contact program.
Foundational Workshops
The Foundational Workshops are designed to regenerate your relationship with yourself and the values of your organization. They provide the foundational modules for more advanced work with the Genuine Contact program and support extraordinary leaders who wish to nourish a culture of leadership.
Advanced Skill Building Workshops
The Advanced Skill Building Workshops of the Genuine Contact program focus on implementing a new operating platform and developing a culture of leadership. Change is brought about by highly participative meetings as a supporting and driving force. The workshops are designed for leaders, consultants, and facilitators who need means of finding optimal organizational solutions in ways that are fast, simple and duplicable.  Using these skills results in the development of the Genuine Contact Organization, a highly engaged organization that sustains performance even in periods of rapid change. The skill-building workshops will take you deeply into understanding how to use simple but effective tools to work with complex environments and situations.
Train the Trainer
To be a Genuine Contact Trainer is to support life nurturing organizations and sustainable growth. You are invited to step into your extraordinary leadership and commit to your own development and growth. The workshop is designed so that you can grow into mastery in using and teaching the Genuine Contact program. With the Train the Trainer workshop you are authorized to teach the full program in-house and in public workshops. You are invited to join the ongoing international mentoring circle of Trainers and you will get access to resources to support you in working with Genuine Contact including sample training outlines for facilitating your own workshops. As a Genuine Contact Trainer, you are invited to become a member of the Genuine Contact Co-owner Group Inc. Join our community of more than 130 Genuine Contact Trainers worldwide! MORE
What's Next?
Workshops are offered around the world and in several languages. Workshops are regularly offered in English, German, and Swedish. They are also offered occasionally in Dutch, French, Norwegian, Spanish, and Russian. Genuine Contact Professionals offer workshops both in person and online.  In short, it's easy to find an upcoming workshop near you!
Event
October 25, 26 and 29, 2020
"Learn to strengthen the muscle of your organization to work from the potential of the Whole Person, individually and collectively."
Whole Person Process Facilitation (WPPF) is the name given to a highly dynamic, participative meeting methodology designed to integrate the wisdom of the group as well the individual, during the meeting. WPPF delivers powerful short and long term results from meetings. Energy, ideas, and discussion from meetings are transformed into constructive action, with participants embracing responsibility and leadership around the topic at hand, be that a product, concept, question or strategy. In the longer term, by using the WPPF meeting methodology, team members become increasingly more engaged, creative and open. This engenders resilience among people and teams in dealing with the dynamics of change from both within and outside organizations.
In this 3 day training, you will learn how to use meetings as a seriously effective way to utilize all the human capacity in an organization. You will discover not only how to prepare, run and follow up on meetings in a new way, but will also learn to build your own capacity to run a WPPF meeting.
Elisabeth Tepper Kofod
29 de octubre – 1 de noviembre de 2020 | Online
Un método altamente participativo para reuniones de grandes grupos de personas (5 a 2000), que usado regularmente cambia la cultura de la organización. Aprenderá a facilitar la reunión y a manejar el proceso más largo que incluye reuniones de preparación y seguimiento para ayudar al cliente a sacar el mayor provecho de los resultados obtenidos en la reunión para su organización.
Este es el Taller Avanzado #1 del Programa de Genuine Contact
Beneficios:
Aprenderá a facilitar reuniones de OST, la reunión de planificación y la de seguimiento para ayudar a la organización a aprovechar el proceso completo
Aprenderá a diseñar reuniones de OST con diferentes propósitos: conferencias, círculos de mentoría, desarrollo comunitario, creación de planes de acción, estrategias…
Sostener un ambiente y entorno abierto y sano dentro de la organización
Un modelo práctico para trabajar con la sabiduría, el conocimiento y la información que ya está en la organización.
Contenido:
¿Qué es Open Space Technology?
¿Cuándo usarlo? ¿Cuál es el contexto adecuado? ¿Qué se obtiene de esas reuniones? Alcance. El papel de los líderes formales. El papel del facilitador.
Ingredientes clave: forma y esencia
Preparando al patrocinante / cliente
Diseño de la reunión
Convergencia y planes de acción
Reunión final con el cliente​
Elisabeth Tepper Kofod
3-5 de diciembre de 2020 | Online
Sabiendo que debajo de las diferencias, todos los seres humanos tenemos algo en común, se promueve el contacto del individuo consigo mismo y un diseño para la resolución de conflictos considerando las necesidades universales de los seres humanos.
Taller Avanzado #3 del Programa de Genuine Contact
Beneficios:
Aprender un proceso holístico y práctico para la resolución de conflictos
Un proceso holístico y práctico para preparar a las personas involucradas
Un proceso holístico y práctico para que usted pueda trabajar exitosamente en la resolución de conflictos.
Desarrollar la habilidad y el conocimiento para saber cuando la resolución de conflictos no funcionará y qué otros medios se pueden utilizar.
Contenido:
Preparación del Facilitador.  En contacto genuino consigo mismo.
Las Condiciones del Ser Humano. Filtros. Procesos de duelo. Crisis de sanación. El significado de Sí y de No.  Reunión de Planificación.
Preparación de los individuos involucrados en el conflicto
La reunión de resolución de conflicto. Contexto. Intención. Solución creativa de problemas. Desarrollando un plan de acción. Un acuerdo escrito. Reflexiones.
Lo que hay que considerar para realizar esta intervención.
Elisabeth Tepper Kofod
20-24 de enero de 2021 | Online
Un sistema operativo enfocado en encontrar soluciones y alcanzar un desempeño exitoso en organizaciones vivas. Patrones simples, procesos elegantes con los que beneficiarse a pesar de la complejidad que existe dentro y fuera de las organizaciones.  Un entorno que nutre y en donde el espíritu humano puede crecer y desarrollar todo su potencial.  Las soluciones emergen del genio y la pasión del colectivo que existe en los recursos humanos de las organizaciones.  Una cultura de liderazgo que se deserolla desde el aprendizaje.
Taller Avanzado #4 del Programa de Genuine Contact
Beneficios:
El conocimiento para desarrollar una Organización en Contacto Genuino (OCG)
Un diseño propio para desarrollar una Organización en Contacto Genuino
Ingredientes clave para el desarrollo del liderazgo necesario para la creación de una OCG
Ingredientes clave para apoyar el liderazgo en procesos de cambio
Contenido:
Preparación del Facilitador.  En contacto genuino consigo mismo.
En contacto genuino con su percepción de lo que es Open Space Technology (OST), lo que se obtiene, alcance, resultados inmediatos, a mediano y largo plazo, rol del líder y del facilitador.
Preparación para trabajar en una Organización en Contacto Genuino
El líder y el mentor en estas organizaciones
Para convertirse en una OCG, descubrir lo que ya está presente, mantenerlo, transformar lo que es necesario transformar, crear lo necesario
Desarrollo del sistema operativo de una OCG
Doris Gottlieb, Anna Caroline Türk & Thomas Herrmann, Heeze, Netherlands
February 2-5, 2021
This advanced workshop is designed to take you through a learning journey, posing possibilities and asking you to become aware and develop your own interpretation and perspective to develop an interconnected learning organization that inspires, sustains and regenerates growth while building capacity to successfully navigate the chaos of our times.
It offers you a deepening in learning how to apply Genuine Contact tools and perspectives when working with others in an organization or team endeavor in such a way that the tools can become embedded in the fabric of the organization.
Since participants are unique and come from unique organizations each facing their own specific challenges and opportunities this workshop's focus is on assisting you to develop your own perspective, design your tailored tools to develop your organization that meets the needs of your situation.
Elisabeth Tepper Kofod
1-5 de marzo de 2021 | Online
Un Trainer certificado de Genuine Contact™ apoya a las organizaciones en su desarrollo sostenible.  Se trata de un líder que se compromete con su propio desarrollo y crecimiento.  Este taller está diseñado para que pueda obtener mayor maestría en la utilización y la enseñanza del Programa de Genuine Contact.  Recibe la utorización de enseñar el programa en su totalidad tanto en talleres abiertos al público como dentro de organizaciones.
Beneficios
Diseños para enseñar a otros los diferentes módulos del programa de GC
Autorización para utilizar materiales de apoyo, manuales, y cientos de recursos para apoyarle en su trabajo.
Comprensión expandida de Whole Person Process Facilitation, cómo crear círculos de mentoría, y mayor profundidad en los módulos avanzados del programa.
Contenido:
El Programa de Genuine Contact™, condiciones, valores, creencias y estrategias.
La Rueda Medicinal como Herramienta y el programa de GC
Componentes del programa
Modelo de Servicio de GC
Modelo de Aprendizaje de GC
Doris Gottlieb, Anna Caroline Türk & Thomas Herrmann, Heeze, Netherlands
April 12-16, 2021
Dive deeper into the Genuine Contact way of achieving organizational excellence. Together with other dedicated participants, you will have five unforgettable days to expand your understanding and skills and move towards mastery in working with the Genuine Contact™ program to assist you in making even more of a difference in the world today.
Upon completing this training you will be authorized to teach the different modules of the Genuine Contact program. The program is a vehicle for developing a culture for extraordinary leadership as the path for organizational success.
Eiwor Backelund Jacobsson, Anders Johansson & Hege Steinsland, Hedekas, Sweden
June 20-23, 2021
For people in leadership positions, such as CEO, Director, HR manager, project manager, team leader, teacher, politician or any other kind of leadership position.
Finding your own authentic leadership style is essential for your confidence as a leader. This workshop aims to develop skills, knowledge, concepts, and capacity based on a holistic perspective of leadership. You will broaden your spectra of leadership skills, by exercises that will help you achieve greater self-awareness and make masterful use of yourself as a leadership instrument in the organizations you work with.
This workshop gives you a unique opportunity to participate in an experiential workshop that combines well-proven components from the Genuine Contact Program with outdoor pedagogy. We will use nature as well as more urban environments as resources to learn about complexity in mental models in individuals and organizations in a relaxed and non-theoretical way.
We start Sunday, June 20 at 5 pm and end Wednesday, June 23 at 3 pm. The workshop language is English and Scandinavian.
Dalar International Consultancy, Raleigh, United States
October 8, 15 & 22, 2021 | Online
Imagine knowing a simple-to-use multi-purpose method for leading highly participatory meetings. A meeting facilitated using Whole Person Process Facilitation (WPPF) includes meaningful conversations, promotes improved communications, collaboration and cooperation.  Using WPPF means that all adult learning styles are taken into consideration thus leaving no one behind. People are engaged.
WPPF is simultaneously a facilitation method and a container for a variety of tools and processes. If you have tools and processes that you like and work for you, using them within a WPPF container enhances how those familiar tools and processes work.
You will move the impact of your meeting to
get real work done quickly by engaging effective adult learning and contribution strategies
increase engagement and participation
focusing on accomplishing the purpose and expected outcomes
inviting the right people to be in the room to achieve your business goal
making effective use of time through careful facilitation planning
enhancing real-time collaboration by tapping into the collective wisdom of your people
enabling people to feel valued by inviting the whole person to be present, not just their 'talent' or specific skillset
Your registration includes immediate access to self-study materials to begin learning how to facilitate WPPF. Registration includes 2 real-time learning options: group learning October 8, 15 & 22 OR individual learning with 1:1 mentoring on your schedule.