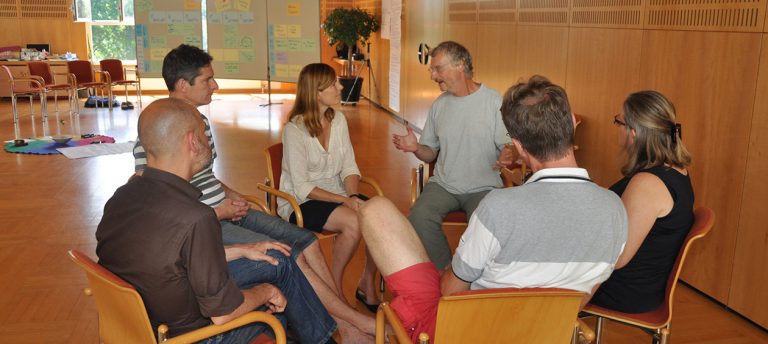 Genuine Contact provides a blended, synergistic, holistic approach to change and to leadership. It is not about a big quick splash, but rather about developing the skills, knowledge, and capacity to sustain the ongoing organizational change necessary to thrive in today's constantly changing, complex times. The program includes 9 modules including 4 Foundational Workshops, 4 Advanced Skill Building Workshops and the Train the Trainer of the Genuine Contact Program. Each workshop is designed as a stand-alone module providing specific skills, tools, and capacity building.  Modules can also be combined to achieve specific learning goals, and as a complete program, these workshops offer you a comprehensive approach to holistic organizational development. To learn about Genuine Contact there are many different paths to choose from:
You can take modules of Genuine Contact program in many different locations around the world
You can take many modules of the Genuine Contact program online
You can join Genuine Contact Mentoring Circles online and in person
You can bring a Genuine Contact trainer into your organization for in-house training
You can participate in different public events
You can  meet the Genuine Contact community on social media
Upcoming Genuine Contact Modules are listed on our Event Calendar. Genuine Contact trainers are authorized to train the original modules of the Genuine Contact program.
Foundational Workshops
The Foundational Workshops are designed to regenerate your relationship with yourself and the values of your organization. They provide the foundational modules for more advanced work with the Genuine Contact program and support extraordinary leaders who wish to nourish a culture of leadership.
Advanced Skill Building Workshops
The Advanced Skill Building Workshops of the Genuine Contact program focus on implementing a new operating platform and developing a culture of leadership. Change is brought about by highly participative meetings as a supporting and driving force. The workshops are designed for leaders, consultants, and facilitators who need means of finding optimal organizational solutions in ways that are fast, simple and duplicable.  Using these skills results in the development of the Genuine Contact Organization, a highly engaged organization that sustains performance even in periods of rapid change. The skill-building workshops will take you deeply into understanding how to use simple but effective tools to work with complex environments and situations.
Train the Trainer
To be a Genuine Contact Trainer is to support life nourishing organizations and sustainable growth. You are invited to step into your extraordinary leadership and commit to your own development and growth. The workshop is designed so that you can grow into mastery in using and teaching the Genuine Contact program. With the Train the Trainer workshop you are authorized to teach the full program in-house and in public workshops. You are invited to join the ongoing international mentoring circle of Trainers and you will get access to resources to support you in working with Genuine Contact including sample training outlines for facilitating your own workshops. As a Genuine Contact Trainer, you are invited to become a member of the Genuine Contact Co-owner Group Inc. Join our community of more than 130 Genuine Contact Trainers worldwide! MORE
What's Next?
Workshops are offered around the world and in several languages. Workshops are regularly offered in English, German, and Swedish. They are also offered occasionally in Dutch, French, Norwegian, Spanish, and Russian. Genuine Contact Professionals offer workshops both in person and online.  In short, it's easy to find an upcoming workshop near you!
Facilitator(s): Mariëlle Cuijpers, Ursula Maurer

We are very excited about the beautiful place we have found on the island Rügen in the Baltic Sea. We are now working on the [...]
Facilitator(s): Birgitt Williams and Rachel Bolton, Dalar International Consultancy

Imagine knowing a simple-to-use multi-purpose method for leading highly participatory meetings. A meeting facilitated using Whole Person Process Facilitation (WPPF) includes meaningful conversations, promotes improved [...]
Facilitator(s): Birgitt Williams and Rachel Bolton, Dalar International Consultancy

End the year recharged, renewed, and ready for what 2024 may bring. Gaining, maintaining, and realigning your health and balance is a key to developing [...]