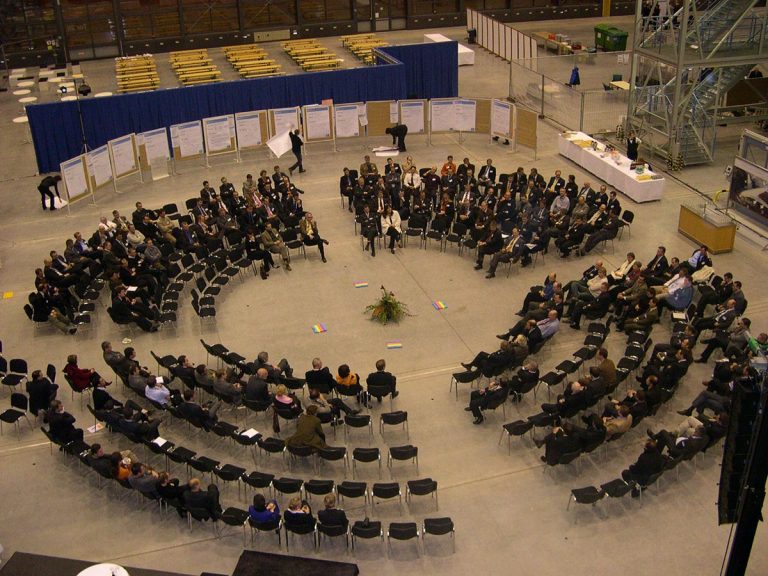 One of our preferred methods, when we are asked to facilitate a group, is Open Space Technology (OST). Our clients, whether in the private or public sector, get results from an OST meeting greater in both quantity and quality than they initially thought possible.
After a simple planning process, the facilitators structure the meeting and then for most of the meeting have a non-interventionist approach so that they don't get in the way of all of the great conversations and work that is happening.
Participants create and manage their own agenda of parallel working sessions around a central theme of a business or community challenge.  Whether the group numbers  5 or 1000 – working in one-day workshops, three-day conferences, or even ordinary weekly staff meetings – the common result is a powerful, effective, connecting and strengthening of what's already happening in the organization: planning and action, learning and doing, passion and responsibility, participation and performance. Unlike conventionally-structured group meetings, Open Space Technology events make it possible to accomplish in hours or days what normally takes weeks or months.
Target Audience: any size group from 5 to 1000 or more that needs to tap into the energy, engagement, creativity, and commitment of the whole group.
Examples of When to use Open Space Technology
strategic planning
adjusting and aligning after a re-organization
re-energizing and re-focusing a business unit around their core purpose and vision
cross-collaboration and exchange of information across groups starting work on a project or changing a process
any time a group is facing issues or opportunities that have high levels of complexity, many possible resolutions and competing priorities, presence of potential (or actual) conflict, and a need to get moving.
Open Space Technology is not for every situation, however. The process will not work when:
People need to be trained in new procedures or provided with new facts and information, such as traditional "classroom style" training.
Decisions have already been made and new views and ideas would actually be detrimental and slow the group down now.
There is very little room for change.
OST: A Case Study
We had the opportunity of planning for and then facilitating a three-day meeting using Open Space Technology for personnel from eight country offices of an organization. Going into the meeting, we were warned that there would be a lot of conflict and that the last time these eight groups had come together, the facilitated process broke down midway through the second day of what had been scheduled as a three day process, and people packed up and went home. There had been no opportunity between then and the present to work through the disagreements. The disagreements pertained to overarching strategic approaches that varied significantly from office to office, country to country. As a result, the organization was not accomplishing its goals.
You can imagine the planning meetings in which representatives from each of the country offices were saying that what we were thinking of doing would never work. They thought the planning meetings would involve them setting the agenda with us and were ready to identify the topics that they thought the group 'should' address. They had hired us because they had heard of our reputation for success with very difficult situations. Somehow, they were prepared to trust what we suggested to them simply because they had a difficult situation and they hadn't been able to solve it and were not sure how to proceed without making it worse. Despite their trust in us, they were decidedly unsure when we conveyed to them that they would not be setting the agenda for the meeting…and that the meeting, in fact, had no predetermined agenda.
With great consternation, they asked how it was possible to conduct a meeting of this magnitude and considerable risk without an agenda. We explained that part of the method involved having the participants develop the agenda at the start of the meeting. We promised them that within an hour of the start of the meeting, the agenda wall would be full of all of the topics that the people who were gathered really cared about for moving the organization forward. Some would be macro-topics. Some would be micro-topics. We then had a method for assigning start times and meeting spaces where the various topics would be convened. We didn't need to get subject experts in to lead the topics. Instead, we treated everyone involved as having sufficient expertise to move the various topics forward to some next step thinking. We trusted whoever posted the topic to be the convener of the group of people who were attracted to the topic.
My hat was off to the senior people who made up this planning group. They were sure that what we were setting out to do wouldn't work. And yet, when I posed to them that our experience was that complex methods got in the way of people sorting through complex challenges whereas a simple method like OST supported people getting through complex challenges, they somehow understood. They understood sufficiently to allow us to go ahead with OST as the method for the three-day international meeting.
The meeting, like our other experiences of using OST, was a resounding success. The sixty people who gathered had fruitful conversations; no conflict erupted; reports were written for each of the topics discussed so that those who were not in the discussion had a chance to review the highlights; recommended actions were distilled, and next steps were recommended. The mood of the participants was full of high energy and at some point, shifted to goodwill towards one another and getting to better collaboration.
In the debrief meeting with the planning committee, we heard such enthusiasm for what had been accomplished during the meeting, and that the post-meeting talk remained one of engagement, commitment, and enthusiasm.
As you can see from this example, OST can be used in a variety of situations on all kinds of organizations. At its core, all that's needed is a group of people gathering together to share their ideas, wisdom, and questions to help move the organization forward. Can you think of a current situation in your work where OST could support the solution?
Origins of OST
Open Space Technology was first developed by Harrison Owen in the 1980s and since then has been used in more than 140 countries with countless people experiencing the possibility that OST has to offer. Our Genuine Contact way of working with OST includes a specific planning process that supports creating the conditions for optimal success both in the experience of the OST meeting and in the implementation of its recommended actions in the weeks and months after the meeting is over. It also includes focus on the impacts of the repeated use of OST inside organizations to support the regeneration of a life nourishing climate and as a catalyst for organizational change and transformation.
You can learn more about Open Space and connect to a diverse group of OST practitioners at the OpenSpaceWorld website.