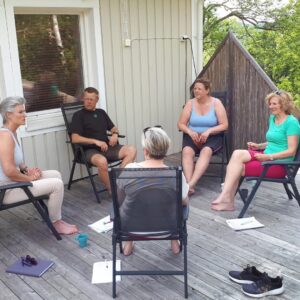 Creating a Culture of Leadership in Communities (Self-Study Program)
What is needed to create a culture of leadership in a community, an association, or a network where people work voluntarily for a common interest? A culture of leadership is a culture where the leadership for taking initiatives and achieving results is shared among many, such as in neighborhood organizations, climate actions, sports clubs, or the church.
Voluntary organizations often engage a lot of people when they begin as a movement or as an answer to a need in the community. When the start-up phase is done, the organization is established and a steering committee is elected, it seems as if other members don´t think they are needed any longer. This leaves a small group of people to carry out the necessary tasks to keep the organization alive and so the members can still enjoy the benefits.
In this workshop, we discuss what you, as part of a steering committee or board, could do to keep the vibrant life in a new organization over time. You will also learn how you can support a dormant organization to be the bustling meeting place it was in the beginning. The organization you support could be a political party, a sports association, an economic association, a choir, a parents' group, or any other organization, that depends only on engaged people doing the work for the benefit of all members.
You will leave this self-study workshop with:
Knowledge about a culture of leadership and how it can support engagement in voluntary organizations
Key elements to work with
Some first steps to re-create engagement and passion
Pitfalls to watch out for
Leading an organization based only on voluntary work requires a somewhat different perspective than working with employed people. The main difference is that you can only count on their passion and spare time to get the work down, and this makes self-organization and shared responsibility keys to success.
$

97.00
Add to cart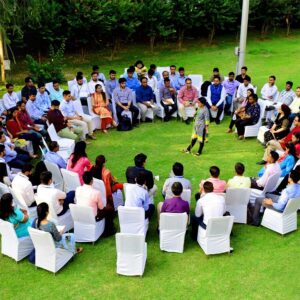 From the Bored Room to the Board Room (Self-Study Program)
'Change is the only constant', is a familiar phrase. 'Change Management' is another common management term. After having literally grown up with these phrases, our entire worldview turned upside down when we learned from Birgitt Williams, 'change cannot be managed, we can only learn to navigate through it'.
During this workshop, we will offer you ways to navigate through change by using the simple, yet profound framework from the Genuine Contact Program.
Through the journey of NIIT Foundation's organization transformation phase as a case study, we will share the power of the Genuine Contact Tools, Whole Person Process Facilitation, and the Genuine Contact Principles. This Genuine Contact way of working enabled our 15+ years old not-for-profit organization first to successfully transform itself starting with a change in mission. And over the last 4 years, with the help of this awareness 'change cannot be managed', we have continued to build our capacities as a Genuine Contact Organization (GCO).
What helped us, an organization of around 400 team members, in creating a learning culture? How are we continuing to sustain this life-nourishing and genuine way of working within an organization?
Through this workshop, we intend to share the skills and capacities we developed using the Genuine Contact way of working to navigate through an ever-changing environment. It is our hope that all organizations (irrespective of size), professionals, and individuals can benefit through this transformation process.
$

97.00
Add to cart