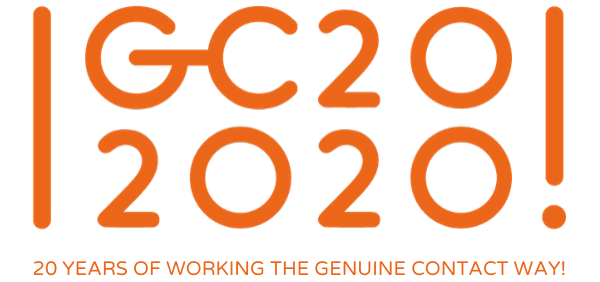 This year we celebrate!
2020 is a special year for Genuine Contact!  We're celebrating 20 years of the Genuine Contact way of working - GC202020.  And I hope you'll celebrate with us!
By 2000, Birgitt Williams was travelling the world teaching the Genuine Contact Program modules leading to the first Train the Trainer in 2001.  So, we're celebrating this anniversary.
Why 20 Years?
With a person, we count the day of their birth as 0, so that their first birthday is a year after they were born. With the first Train the Trainer, we count the year 2001 as year 1, not year 0. Much had already gone into the gestation, birth, and infancy of Genuine Contact by the time we got to that first milestone. That milestone was a significant counting point because it was the official moment where a collective of people decided to work together in Genuine Contact. That created 2010 as the 10 year anniversary and then 2020 as the 20 year anniversary, and so on.
GC202020
There are ample opportunities to celebrate 20 years with us. As of December 31, 2019, these are some of the ways you can join in:
Celebrations Around the World for GC202020
As of today (December 31, 2019), there are 4 in-person celebrations planned, happening in 3 different languages and 2 continents. These celebrations, as part of upcoming Genuine Contact Mentoring Circles, are your opportunity to be together with others passionate about the Genuine Contact way of working. Every event will include special activities to celebrate GC202020.
German Speaking Genuine Contact Mentoring Circle: January 13-15 in Oberursel, Germany (learn more)
Scandinavian Genuine Contact Mentoring Circle: June 13-14 in Sweden
Genuine Contact Summer Academy and Mentoring Circle: July 3-10 in Waterloo, Canada (learn more)
Genuine  Contact Face to Face Mentoring Circle: September 4-5 in Amsterdam, Netherlands (learn more)
Other plans are in the works around the globe. Check back on this page or sign up for our newsletter for updated opportunities to celebrate in-person with others working with Genuine Contact.
International Health and Balance Day
Friday, October 20th is International Health and Balance Day. This is a global GC initiative to encourage individuals and organizations to pause and raise awareness of the importance of health and balance in everyday life and in business. Learn more about how you can get involved.
GC202020 Celebrations Online
Whether you're able to attend an in-person celebration or not, there are plenty of opportunities to celebrate together online too!
GCO Monthly Meetings
Celebrate what's happening with Genuine Contact at our monthly Genuine Contact Organization meetings.  We get together the second Tuesday of every month. The purpose of these meetings is to offer a regular and fixed time for us to gather together in real-time to attend to the growth and development of Genuine Contact, the Genuine Contact Program, and the Genuine Contact Organization.
>> Learn More & RSVP for an upcoming date.
GC Power Hours
What's a power hour?  It's a focused hour of work.  We practice the art of "segment intending" as taught in the Individual Health and Balance workshop, helping each other to hold the intention. Each one-hour session has a theme that supports you in getting work done that might be "falling off the side of your desk" as you push it aside for more urgent activities. Things like writing content for blogs and social media, improving your online presence, and focusing on the strategy of your business. It's a great way for those of us who are self-employed to tap into the energy of working within a group.  It's powerful to be in the collective intention of getting things done.  And it's kind of nice to connect with others for a few minutes who are also working solo :-).
All Orange, Green, Blue and Purple members are welcome to join these Power Hours.
>> Learn More & RSVP for an upcoming date.
The Podcast
Starting January 1, Anna Caroline Türk and Doris Gottlieb talk about organizational transformation and leadership culture - introducing new ways of working - tailored for the needs of the 21st century.