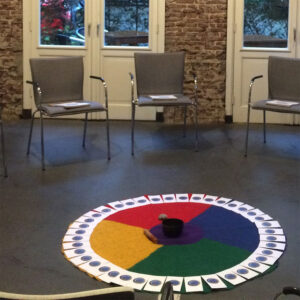 Meetings that Engage (Self-Study Program)
In this Genuine Contact Specialty workshop, you will learn a practical tool, the Transfer-In, that could be used at the start of a meeting (series) to help participants fully engage in the meeting with the topic at hand. You will experience and learn how this helps participants slow down to be able to go fast, how it reduces typical 'wastes-of-time' because of conflict, positioning and other dynamics and how it helps people to be aware of what intention brought them to the meeting.
When people come together to meet around a common purpose or activity, whether in organizations or communities, it should be exciting, energizing and come with great learning. Often though this is not the case. Meetings are felt to be boring, useless and people feel it was a waste of time. People even start to avoid meetings. Now, this is really a waste of the great resource of knowledge and experience that people bring when they meet together.
When we call people to a meeting we should make use of their whole being, all their experience and knowledge. We should invite them fully to allow for the best possible outcome.
Genuine Contact offers a way to fully engage participants in a meeting no matter what the meeting is about or what meeting method you use. In this online workshop, you will learn:
A deepening of your understanding of the importance of full engagement of meeting participants
An easy and playful tool to invite participants to fully engage in the meeting
A key aspect of the Genuine Contact approach to organizational success
$

97.00
Add to cart